Lauren Cheney Biography
Lauren Nicole Cheney is an American retired professional soccer player who had played for The US Women's National Soccer Team from the year 2007-2015 as a midfielder as well as a forward. Lauren has won Olympic Gold Medal two times and she is also the champion of FIFA Women's World Cup.
Cheney used to play professionally for the FC Kansas City in the National Women's Soccer League and also for the Boston Breakers in Women's Professional Soccer. Additionally, she was also named as the U.S. Soccer Young Female Athlete of the
Lauren Cheney Age
Lauren Nicole Holiday was born on September 30, 1987, and she is 31 years old as of 2019.
Lauren Cheney Family
Born in Indianapolis, Indiana to Rita and George Cheney,
Lauren Cheney Career
It was during the summer of 2009 when Lauren joined Pali Blues which is the team of Southern California in its W-League. The next year on 15th January, she was selected by the Boston Breakers as their 2nd overall pick in the WPS Draft. During the 2010 season, Cheney played in 23 games for them.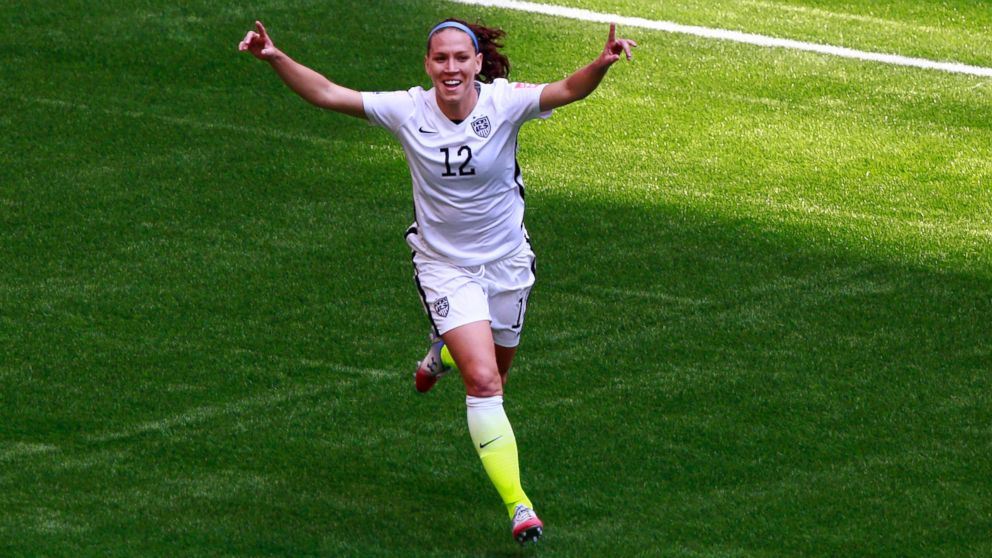 Later in 2013, Cheney became one of the three national team players to be allocated to FC Kanas City along with Becky Sauerbrunn and Nicole Barnhart. The same year in June, she was named NWSL Player of the Month after she scored six times in just five games as well as becoming the leading scorer of the league with 8 goals.
As of 2015, Lauren was a leading goal scorer. She then got retired at the end of the 2015 season from the NWSL. Her jersey number 12 was retired in her honor.
Prior to that, Lauren had also played internationally for the U.S. Women's National Soccer Team. She has also played for the 2015 FIFA Women's World Cup where she scored the 3rd goal in the 14th minute of the game. On7th July 2015, after the 2015 FIFA Women's World Cup, she made an announcement from her international
International
Holiday playing with the United States women's national soccer team in San Jose, California, 2015
Holiday made her first appearance and start for the U.S. women's national soccer team on January 26, 2007, against Germany. She earned her second cap and scored her first goals against Mexico on April 14, 2007. The same year, she was named the U.S. Soccer Young Female Athlete of the Year.
Honors and awards
International
Olympic Gold Medal: 2008, 2012
FIFA Women's World Cup: 2015
Algarve Cup: 2008, 2010, 2011, 2013, 2015
CONCACAF Women's Olympic Qualifying Tournament: 2008, 2012
CONCACAF Women's Championship: 2014
Four Nations Tournament: 2007, 2008, 2011
Individual
FIFA Women's World Cup All-Star Team: 2011
WPS All-Star: 2010
NWSL Best XI: 2013, 2014
NWSL Most Valuable Player: 2013
NWSL Golden Boot: 2013
NWSL Championship Game MVP: 2014
U.S. Soccer Young Female Athlete of the Year: 2007
NCAA All-American First-Team: 2006, 2007, 2008, 2009
Pac-10 Conference Player of the Year: 2007
Soccer America Player of the Year Award: 2007
U.S. Soccer Female Athlete of the Year: 2014
Sagamore of the Wabash: 2015
Team
with FC Kansas City
NWSL Championship: 2014, 2015
UCLA Bruins, 2006–2009
In the fall of 2006, Holiday enrolled at UCLA, where she was named a first-team All-American and NSCAA Freshman of the Year. She led the Pac-10 Conference with 19 goals, which also set a new UCLA freshman record with a goals-per-game percentage of .95. As a sophomore in 2007, she was the runner-up for the women's Hermann Trophy and the Pac-10 Player of the Year. She led the conference again in goals scored with 23 and broke the UCLA single-season school records for points (57) and goals (23).
Holiday became the first player in UCLA history to earn NSCAA/Adidas First-Team All-America honors all four years of her career. At UCLA, she set new school records for points (173) and game-winning goals (28); and tied the career school record in goals with 71. She had 31 career assists, second place in the record book. During her four years, the Bruins played in consecutive NCAA College Cups.
Lauren Cheney Husband/Child
Lauren Cheney is married to her boyfriend turned husband named Jrue Holiday who is a professional basketball player. The pair first met and started dating in 2008. Later, the couple tied their knot with each other on 7th July 2013. She also has one daughter named Jrue Tyler Holiday together with her husband.
Lauren Cheney Net Worth/Salary
According to some sites, Lauren has been earning an annual salary of $150,000. Her net worth is estimated to be around $350 Thousand as of 2019
Lauren Cheney Twitter