SARAH FORGANY
Sarah Forgany Biography
Sarah Forgany is an Egyptian-American news anchor at KENS 5, the CBS affiliate in San Antonio, Texas. Forgany is also recognized for her dedicated efforts at the Associated Press Award.
Sarah Forgany Age/Birthday
Sarah was born on 3rd January 1996, she is already 23-years old of age in 2019 January 3rd. However, she stands a quite good height. She has not yet revealed her body measurements yet she is still under review.
Sarah Forgany Family
Sarah Forgany was born on 3 January 1996, in Cairo, Egypt and later moved to Houston, Texas with her parents. She shares a strong bond with her mother, however, she has not yet disclosed any information about her father. She grew up along with her sister. Moreover, she holds an American nationality.
Sarah Forgany Husband/Married
It was a fairy tale come true for KENS 5 anchor Sarah Forgany as she and new husband said "I do" earlier this month. The morning anchor shared details from her intimate wedding with mySA.com.
Forgany says it all started with a romantic marriage proposal. Her early morning work schedule ruined the proposal he had been planning so he improvised.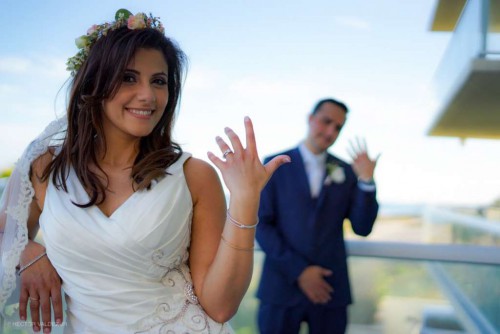 Sarah Forgany Salary
Sarah Forgany net worth and salary are yet to be disclosed, however, she has undoubtedly gathered a lucrative amount of money by working at various stations, taking over multiple responsibilities.
Sarah Forgany Kens 5
Meet the KENS 5 Team: Sarah Forgany
Morning Anchor
Sarah Forgany is a morning anchor at KENS 5 in San Antonio, Texas. She has a passion for journalism and telling stories. Sarah started working in television in 2002, learning every aspect of it, from production and editing to reporting and anchoring. Sarah is an award-winning journalist who has received four Associated Press awards.
Prior to joining the KENS 5 team in April 2010, Sarah was the weekend anchor/ reporter at KLFY in Lafayette, La. Career highlights include covering the earthquake in Haiti, Hurricanes Gustav and Ike, and interviewing former President Bill Clinton and Governor Bobby Jindal — not to mention… Mardi Gras! Sarah began her career in Houston, where she worked at KTRK ABC13 and News24Houston.
Sarah's passion and hunger to learn about people, cultures and religions have driven her to travel the world. Most recently, Sarah travelled to Haiti to report on the devastating earthquake. She witnessed the tragedies and sufferings of Haitians, but also the plight of courageous Americans making a difference.
Sarah was born and raised in Cairo, Egypt. She spent most of her life in Houston, where she graduated with a journalism degree from the University of Houston. When she's not working, she loves to travel. She has been to Australia, New Zealand, France, Egypt, Venezuela, Germany and Mexico, and many more countries and cities.
Sarah is fluent in Arabic but is learning Spanish. She's a member of the National Association of Hispanic Journalists. She enjoys spending time with her family, but most of all "Speedy," her Russian Tortoise. She is in love with helping the community and always digging for new and good stories.
Sarah Forgany San Antonio
Heartbroken San Antonio anchor Sarah Forgany's tribute to Fred Lozano
The day of revered newscaster Fred Lozano's death, KENS-TV anchorwoman Sarah Forgany was audibly heartbroken.
"I think we got even closer after his retirement," she said of her former morning co-anchor. "People thought it was funny because of our age difference," Forgany recalled to the Express-News Wednesday night, "but we just clicked. We could go to lunch together for three hours and talk and talk and talk and not realize so much time had passed by."
Forgany teared up many times during our interview. Yet, the grieving anchorwoman still pushed herself to get up very early the next day and deliver a labour of love on TV Thursday morning: a lovely, moving and funny video about the man she called her mentor and whom San Antonio viewers depended on for thorough news coverage from the '70s to his retirement in 2012.
In it, we see him in vintage footage next to two of his evening co-anchors: Deborah Knapp in the late 1970s and, in the '80s, Kelly Chapman, his ex-wife and a good friend. We also learn about the many people Lozano helped through KENS' signature consumer "Eyewitness Wants to Know" feature, which he helmed for many years.
Best of all, we see examples of his contagious sense of humour and even witness him singing with Forgany: "All My Loving" by the Beatles.